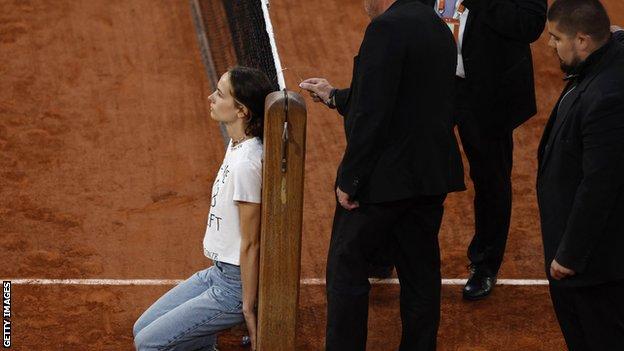 A female protester interrupted the French Open semi-final between Casper Ruud and Marin Cilic.
In the third set, a woman walked on to Court Philippe Chatrier, knelt beside the net post, tied something around her neck and fastened it to the net.
The players were taken off the court while security dealt with the incident and led the woman from the court.
"It was a bit scary honestly and I didn't know what was going on," said eventual winner Ruud.
The match was delayed by 15 minutes before the players returned with the match level at one set all.
The protester wore a T-shirt apparently in support of a group of climate change activists, who subsequently posted online to say she was acting on their behalf.
Ruud went on to win 3-6 6-4 6-2 6-2 to become the first Norwegian to reach a Grand Slam final but said the disruption had been "a bit awkward".
"It seemed she had tied herself and had something around her neck and they couldn't get rid of her. I didn't see the T-shirt and what she protested about," said Ruud, who will play 13-time champion Rafael Nadal in Sunday's final.
"We left the court and got back and I was able to keep my focus so it was a bit challenging."