The Ukrainian players belt out the anthem while swaddled in their nation's flag.
Here come the players …
"There's been lots of talk of all neutrals rooting for Ukraine," says Duncan Edwards. "I'm not Welsh but not only do I want Wales to qualify, I actually wanted them to beat Scotland in this game to reset the heartbreak of the 1978 qualification campaign. Would also like Dan James to prosper."
Only 15 minutes until kick-off. The stadium is filling up in Cardiff, the rain is falling. Things are about to get serious.
The aforementioned flag in the Ukraine changing room.
Do it for Bubbins!
"Sitting here in Victoria, BC, I am truly torn," admitted Bob Zoelner. "No ties to either, but would love to see Ukraine in the World Cup, but also want to see Bale and Ramsey there, too. Hope for a clean, non-controversial match!"
David Brooks on his health: "I feel alright, day-to-day-wise it's getting back to normality. It's quite a surreal feeling to get the all clear. To think six to eight weeks ago I was still on treatment schedules shows how quickly it can turnaround."
And also fantastic to see David Brooks speaking on Sky. He could help inspire a Wales win.
Sky have the great Cliff Jones on discussing Wales' 1958 World Cup qualification. A class act of a man.
Bale's last big chance…
Matt Dony emails: "Best case scenario – Wales finally qualify for their second World Cup, which is a dream for so many of us. But it's the most controversial World Cup in history. And everyone will hate us. Should that happen, the actual World Cup campaign will be amazing, whatever happens. Finally seeing these players on that stage will make my heart burst. But it will have a bittersweet element. Wales losing today would be a heartbreak. There's no two ways about it. But if I had to pick any team to potentially lose to, it'd be these. Just hoping for a decent game, no controversy, no reliance on luck. Just the best team to win. Can't argue with that, whichever way it goes."
Wales: Hennessey, Roberts, Rodon, B Davies, N Williams, Ampadu, Ramsey, Allen, James, Moore, Bale.
Subs: Ward, A Davies, Gunter, Mepham, Wilson, Johnson, Morrell, Norrington-Davies, J Williams, Harris, Thomas, Matondo
Ukraine: Bushchan, Karavaev, Zabarnyi, Matvienko, Mykolenko, Malinovskyi, Stepanenko, Zinchenko, Yarmolenko, Yaremchuk, Tsygankov.
Subs: Sobol, Bondar, Syrota, Sydorchuk, Dovbyk, Pyatov, Mudryk, Pikhalyonok, Kacharaba, Zubkov, Riznyk
Pitch inspection.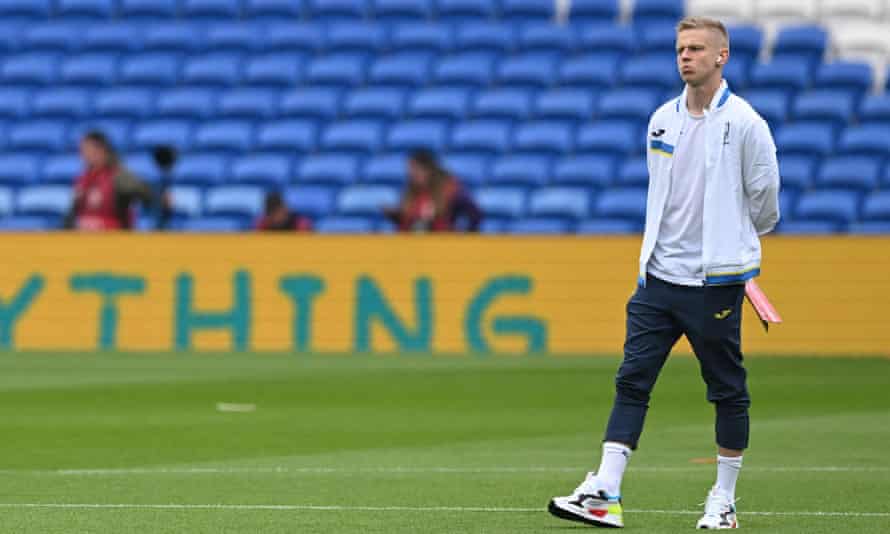 Obviously, we also have a piece from Mr Wales himself Elis James. Wishing Elis all the best today with the match and his canceled house move.
Wales will be inspired by this Dafydd Iwan.
Ben Fisher has the details …
There's plenty of stuff to get you in the mood for this match starting with Ed Vulliamy …
Here we are. The final European place at the World Cup later this year will be decided in Cardiff today.
Wales host Ukraine in one of the most emotionally charged games in history. The visitors arrive with the support of the world following Russia's invasion. A national flag sent from the frontline will adorn the changing rooms at the Cardiff City Stadium an indication of how football and war are intertwined in this qualification campaign. Qualifying for the Qatar 2022 will mean the world to Ukraine.
For Wales this is a final chance for Gareth Bale and Aaron Ramsey to qualify for the World Cup and they will be desperate to achieve it in front of their home fans. Undoubtedly, the atmosphere in the Welsh capital will be a raucous one as, for 90 minutes, the host cannot afford to show sentimentality. There is plenty at stake for Wales, too, that's for sure.
Ukraine made relatively light work of Scotland in the semi-final, so are coming into this joust in fine form. They have had a few days to recover emotionally from the victory in Glasgow and regain their equilibrium.
Whatever the outcome, it will be an incredible result for one nation. Let's just hope it's a cracker of a match to take someone to Qatar 2022.
Kick-off: 5pm