Refresh
OK event is kicking off in 10 minutes we've just been told. I'm gonna quickly fill up my (Apple branded) drink container. Rehydrate people!
Here we are. Apple is taking Covid precautions very seriously, so we're all wearing (Apple made) face masks, even outside.
We're inside..or outside. Maybe a little bit of both. #WWDC22 pic.twitter.com/4n7EPU2xkuJune 6, 2022
See more
The space in front of the main screen is filling up quickly. We've got some nice seats, but this sun is INTENSE. My poor British complexion is suffering. Classic Brit, come out to see Apple and moans about the weather.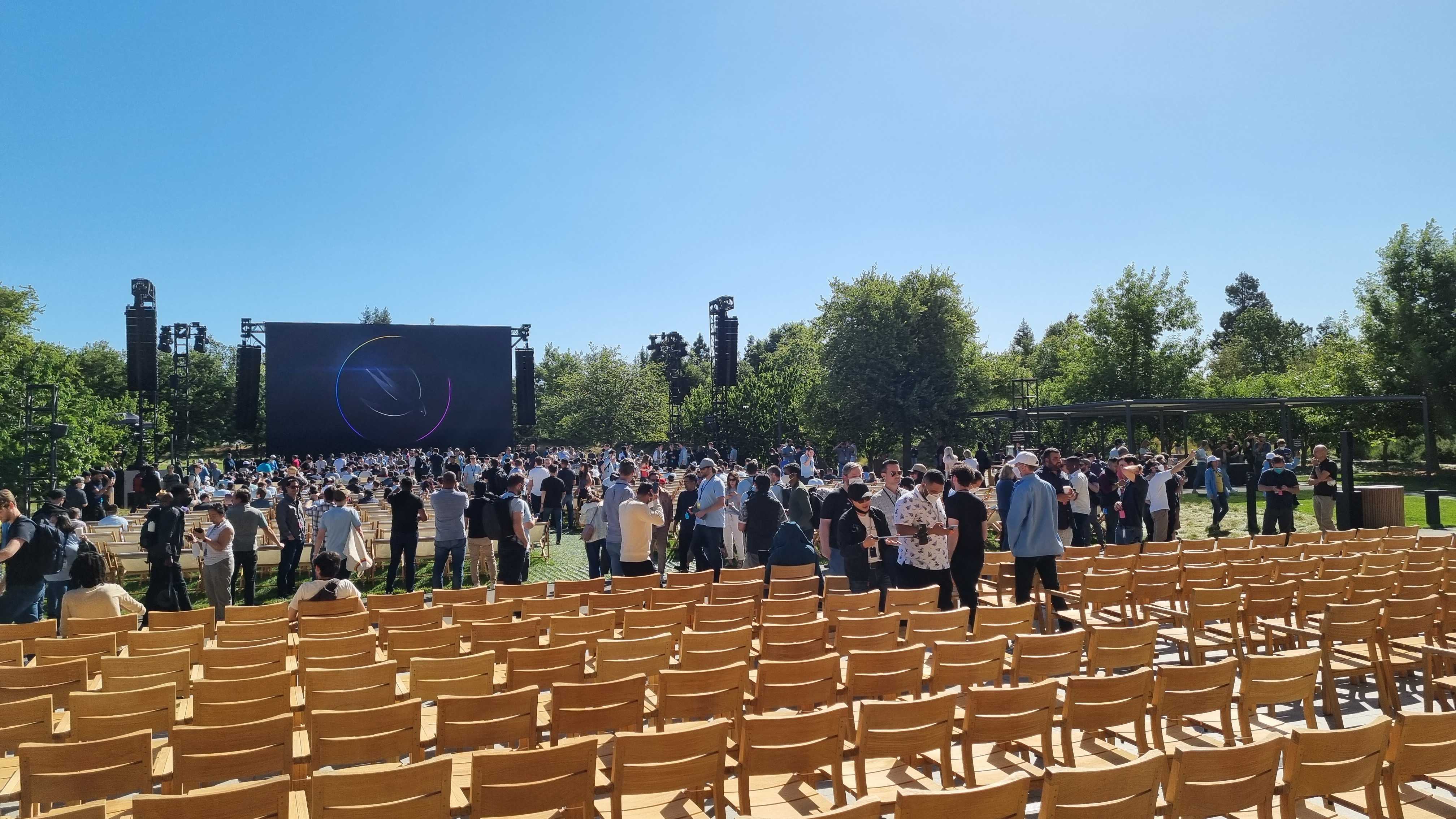 We're taking our seats, and I'm here with Lance, our US Editor-in-Chief!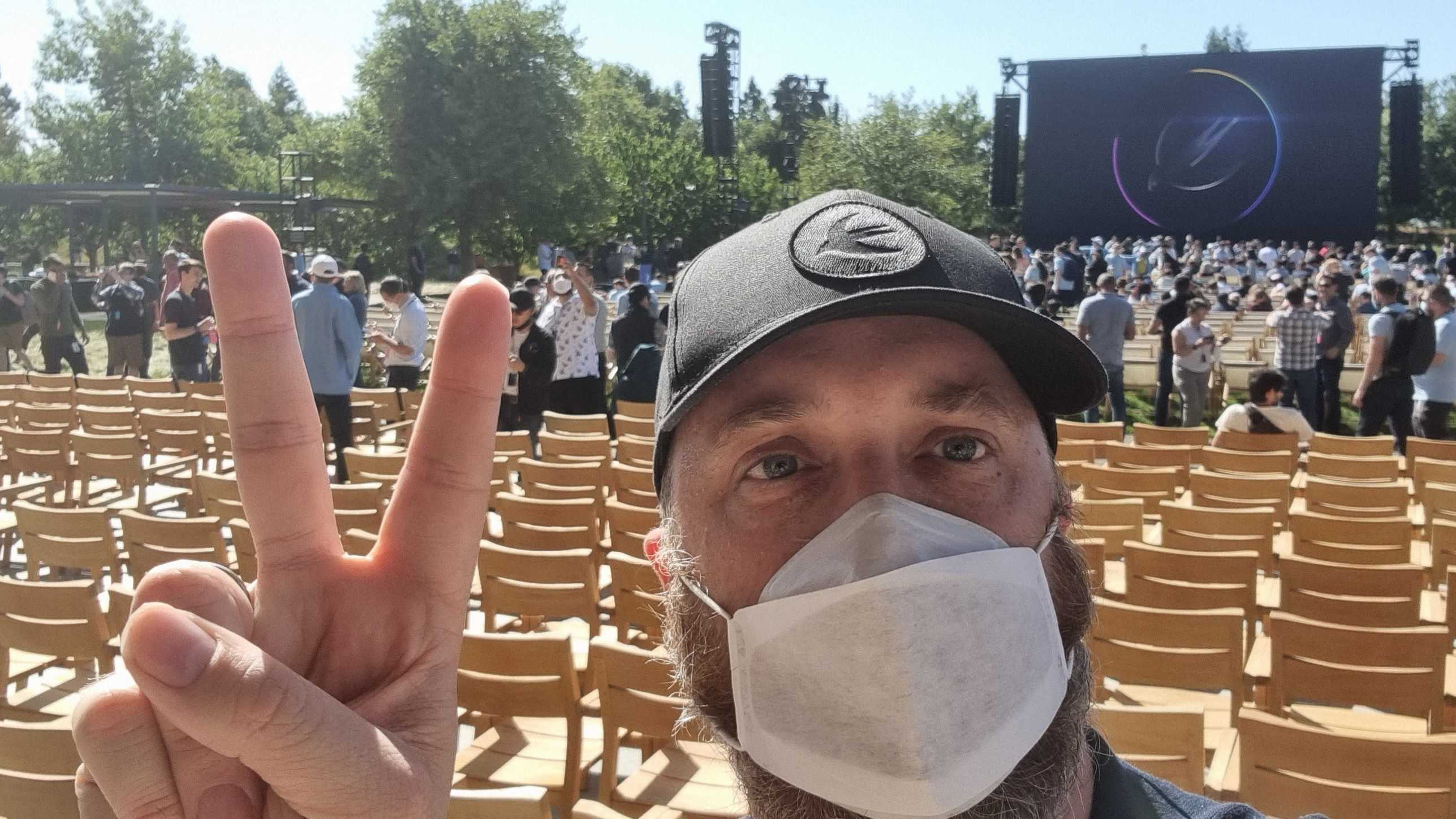 Due to ongoing Covid restrictions, this year's WWDC event is rather different. It's in-person, but the actual keynote will be livestreamed to large outdoor screens for attendees, hence why we're all out in the sun.
Just overheard someone official-looking saying we'll be starting soon. Exciting! I really hope I don't melt in this heat, though.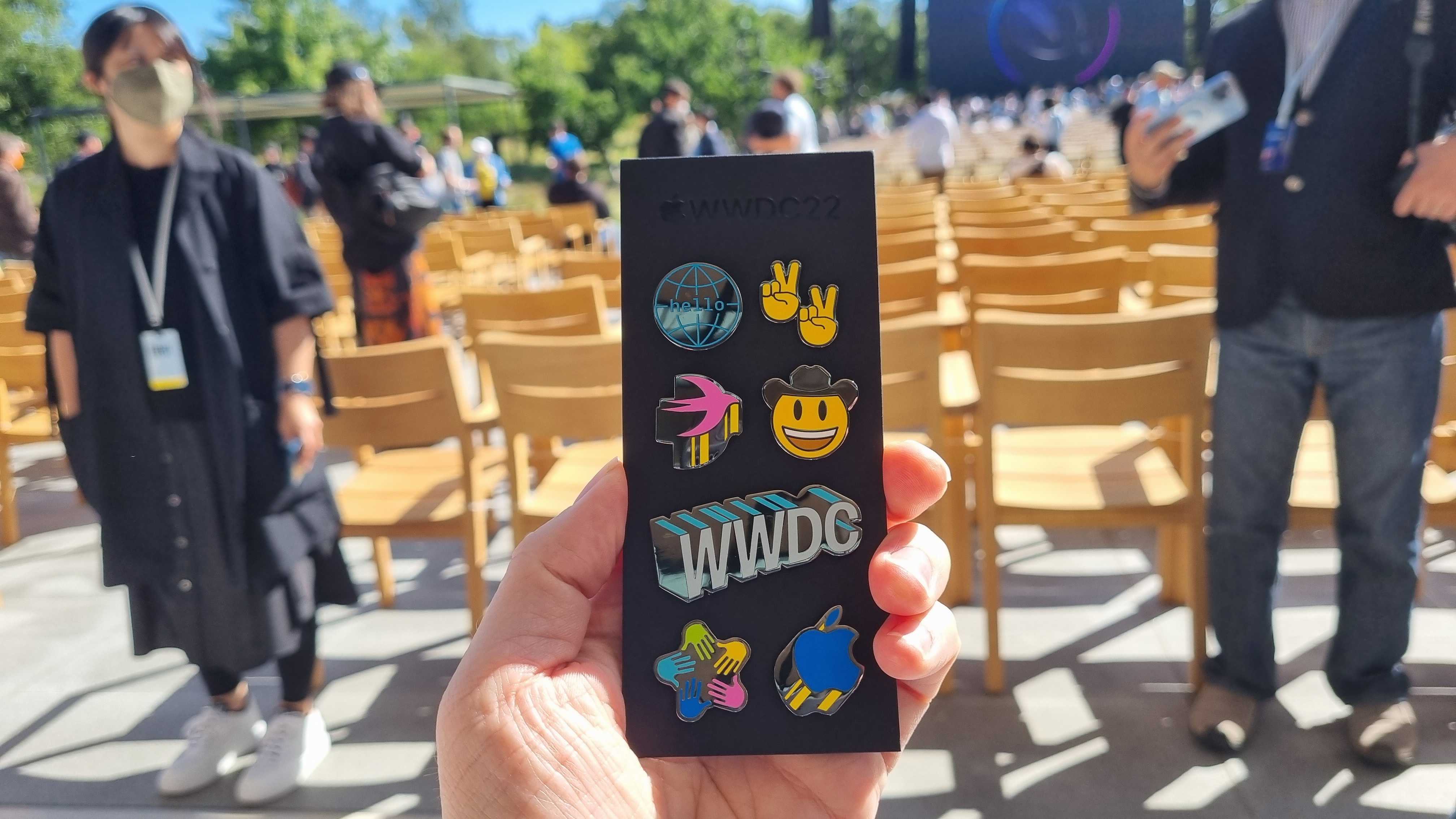 I got some nice badges for attending! That's nice.
Apple Park is a very impressive complex in Cupertino, one of Steve Job's final vision for the company. It's got lovely open spaces, inside trees and some of the largest windows I've ever seen.
It's very impressive.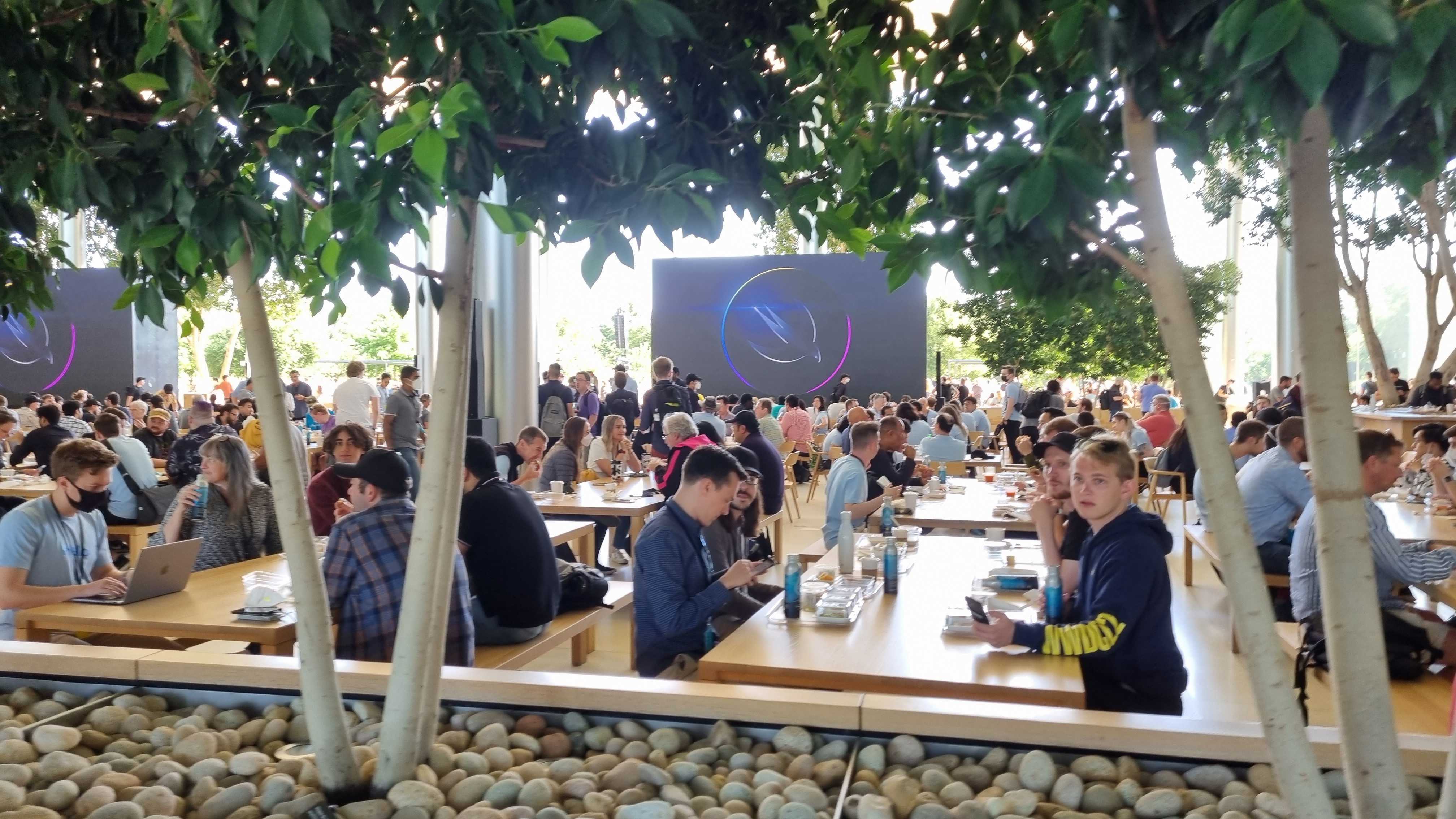 Thanks Gareth! I'm Matt Hanson, here to hopefully cover any exciting Mac, macOS and MacBook announcements, and as Gareth said, I am currently sitting in the VERY hot sun in Apple Park, Apple's stunning HQ in California. I've put lots of sunscreen on in case anyone (especially my mum) is reading this and worrying.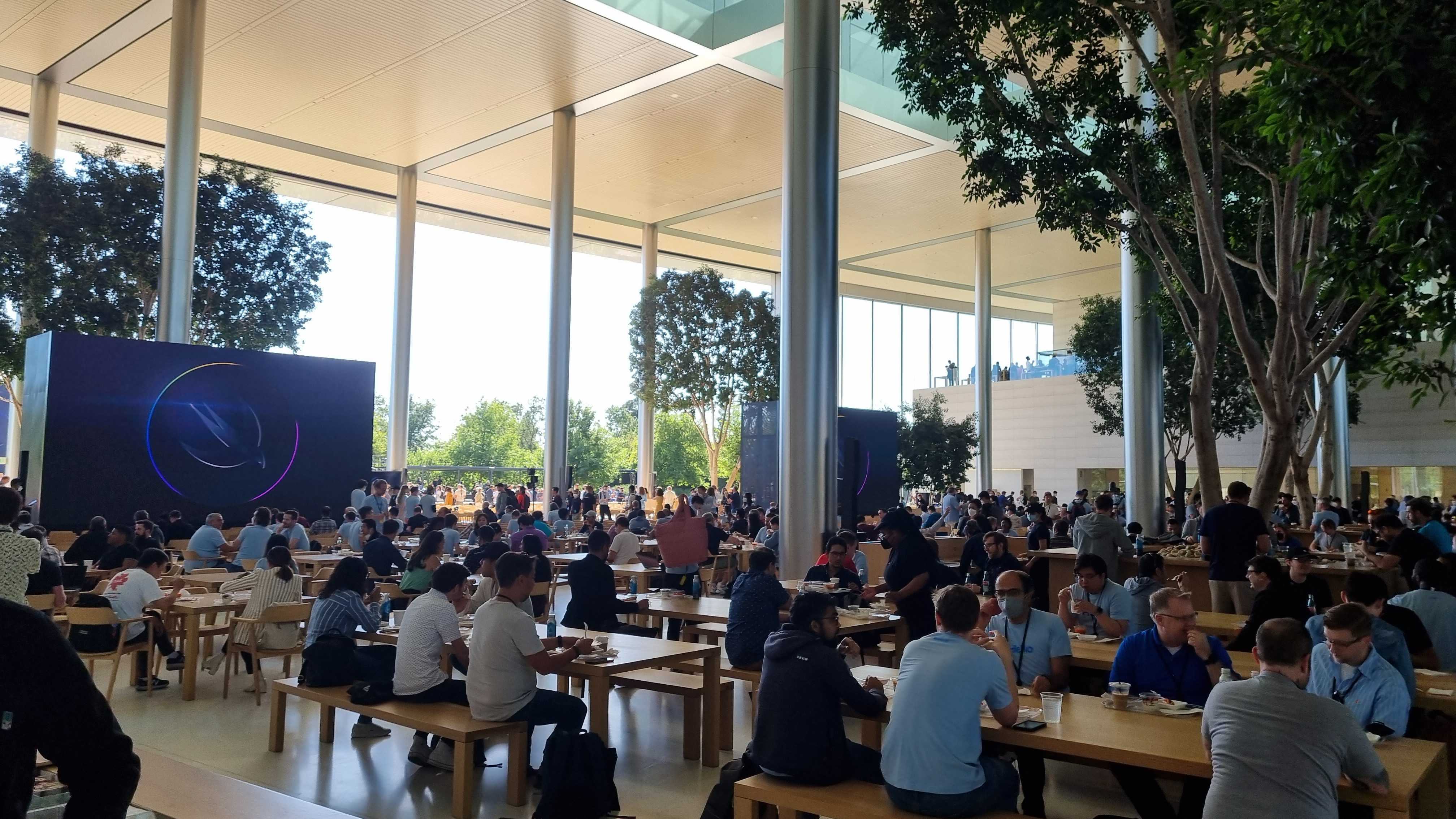 Well, that's me done for now – I'm about to hand you over the esteemed Matt Hanson, our managing editor of Computing and Ents, who is currently sweltering in the Cupertino sun.
Thanks to you all, it's been a blast!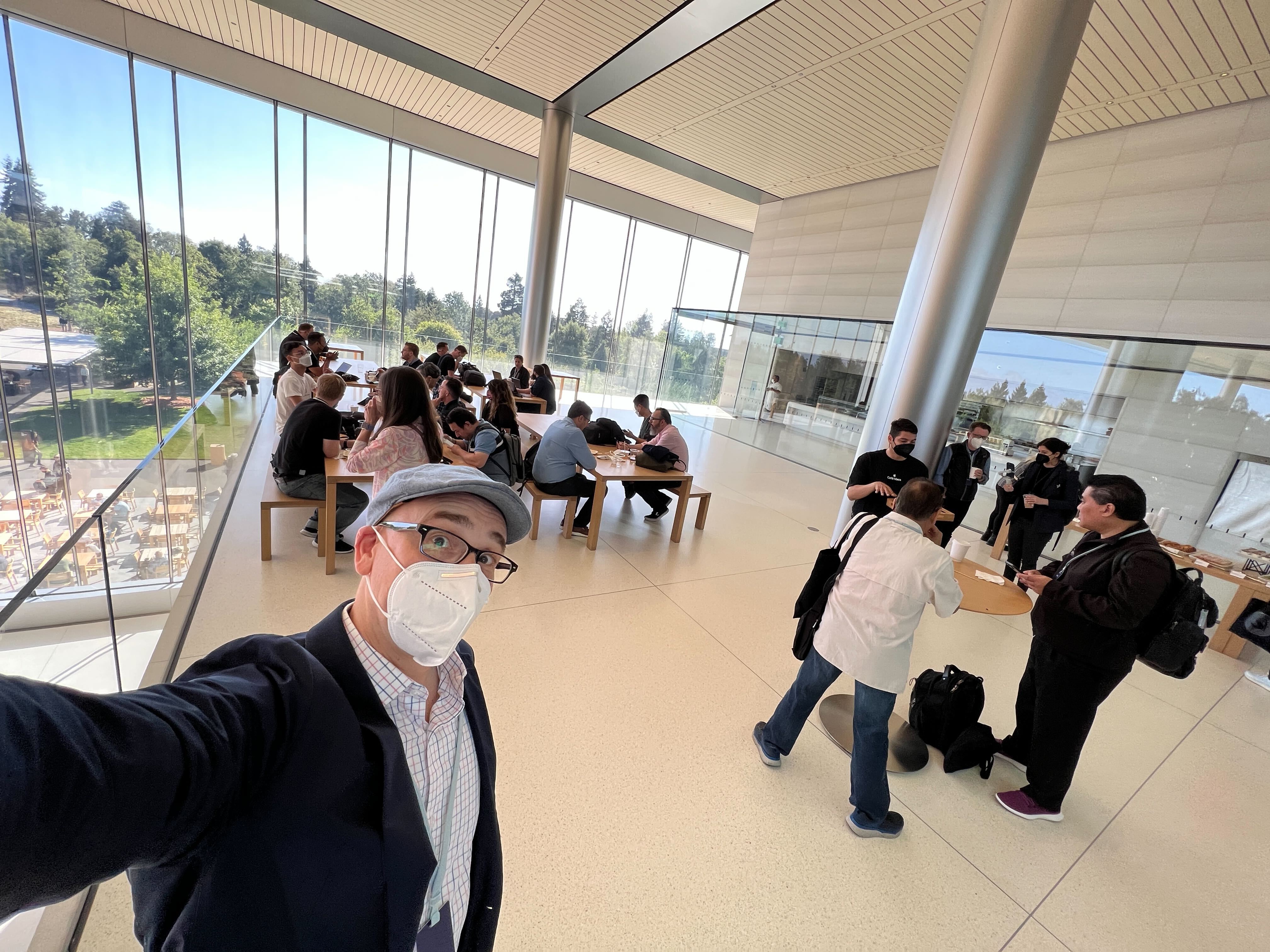 OK everyone, we're under an hour away from the big event. The TechRadar team are in and starting to think about taking their seats… are you ready?
Honestly, I don't get this. Why is there no Weather app on the iPad already?
If the Weather app with its great rain animations come to iPad and macOS today, I'll be happy.#WWDC22June 6, 2022
See more
While we're talking Twitter, here's one from Lance Ulanoff, who will be taking over this live blog later today from deep within Cupertino itself.
Five years ago, Apple took a little chunk out of WWDC17 to introduce the HomePod. That device didn't last but spawned the much more popular HomePod mini. Is it now time for the HomePod in-between? #WWDC22 https://t.co/OxhZxsfKvFJune 6, 2022
See more
I can't see a HomePod Max or Pro or Air launching today, mostly because the HomePod Mini is doing just fine and the larger HomePod, which was great but too expensive, just didn't work out.
Getting to be one of the first to look at and snap the thing was amazing though.
TIM COOK HORN! 🚨🚨🚨
He's definitely awake, everyone. Chances are he'll make it to the conference on time. #journalism
Developers assemble! It's going to be a great day! #WWDC22 pic.twitter.com/OZvER1gIiNJune 6, 2022
See more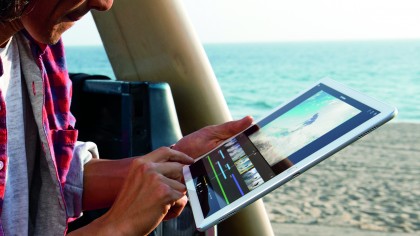 If you're one of 'those' people who want to see their iPad being more like a laptop, then I've got good news for you: it's likely that we'll see it becoming even more like macOS this year.
That means, primarily, that you'll be able to move and resize apps in a similar way to Windows, giving you more control over the real estate on your device.
This is an interesting move from Apple. While yes, making the iPad more Mac-like is a good thing (especially as more models have the high-end M1 chipset inside, making them similar in power) on the smaller iPad Mini screen, for instance, this kind of mobility could be a nightmare with less screen estate to poke at.
If this does come to pass today, I suspect Apple will be modifiying it for different screen sizes… let's wait and see, but it could make your iPad Pro more laptop-like than ever.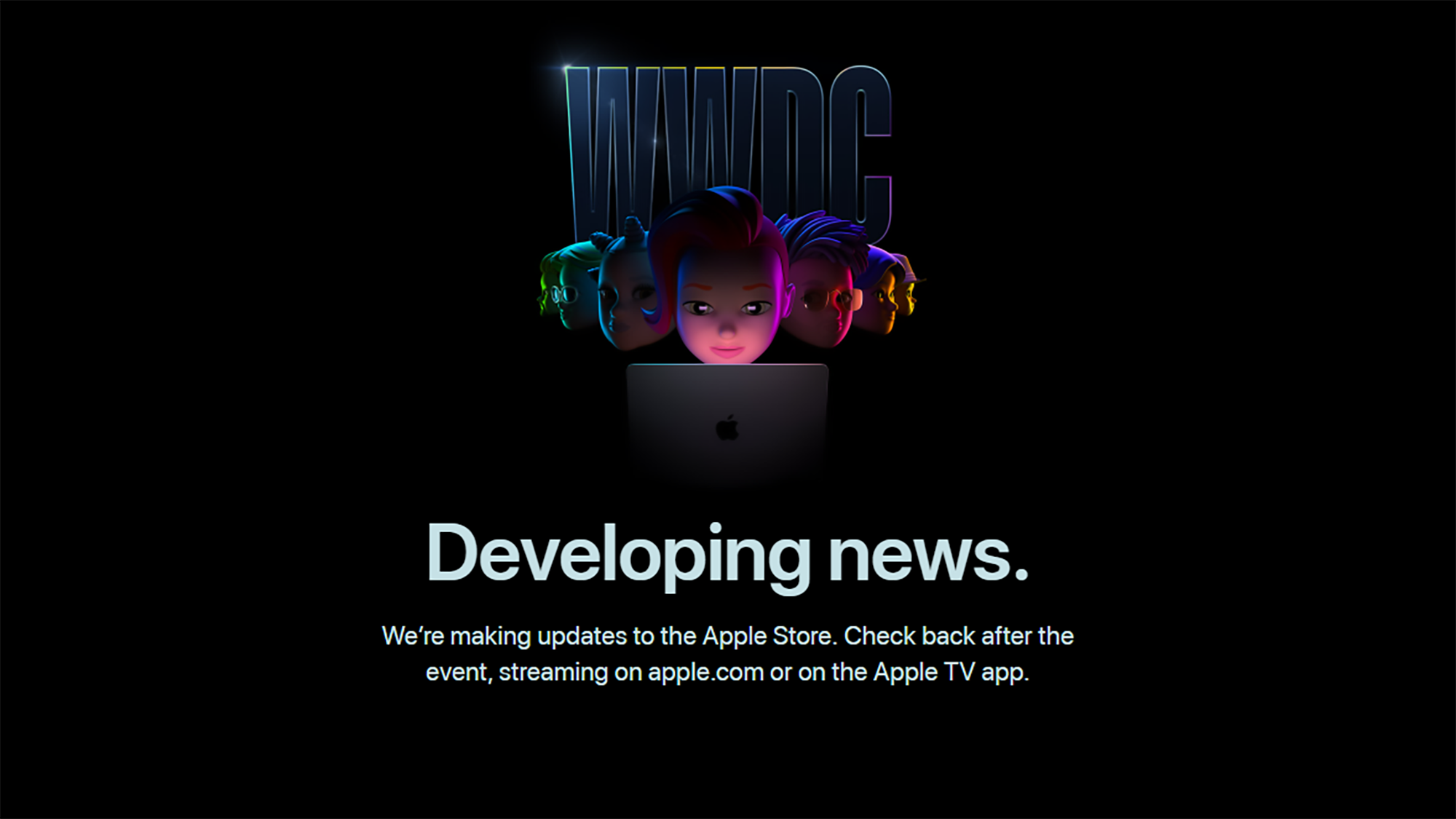 I've been at this Apple event gig for many years now, and there's almost something comforting about the Apple Store going down ahead of a big event.
What this does tell us is that, again, there's going to be an announcement that affects products on sale today – Apple doesn't want you buying anything on the day only to find that it's been upgraded within 24 hours.
This doesn't really tell us that much – I'm almost certain there's not going to be a new iPhone 14 at this event, but you can't buy an iPhone 13 today – but it's always interesting that Apple would likely lost hundreds of thousands of dollars in sales in order to push its event.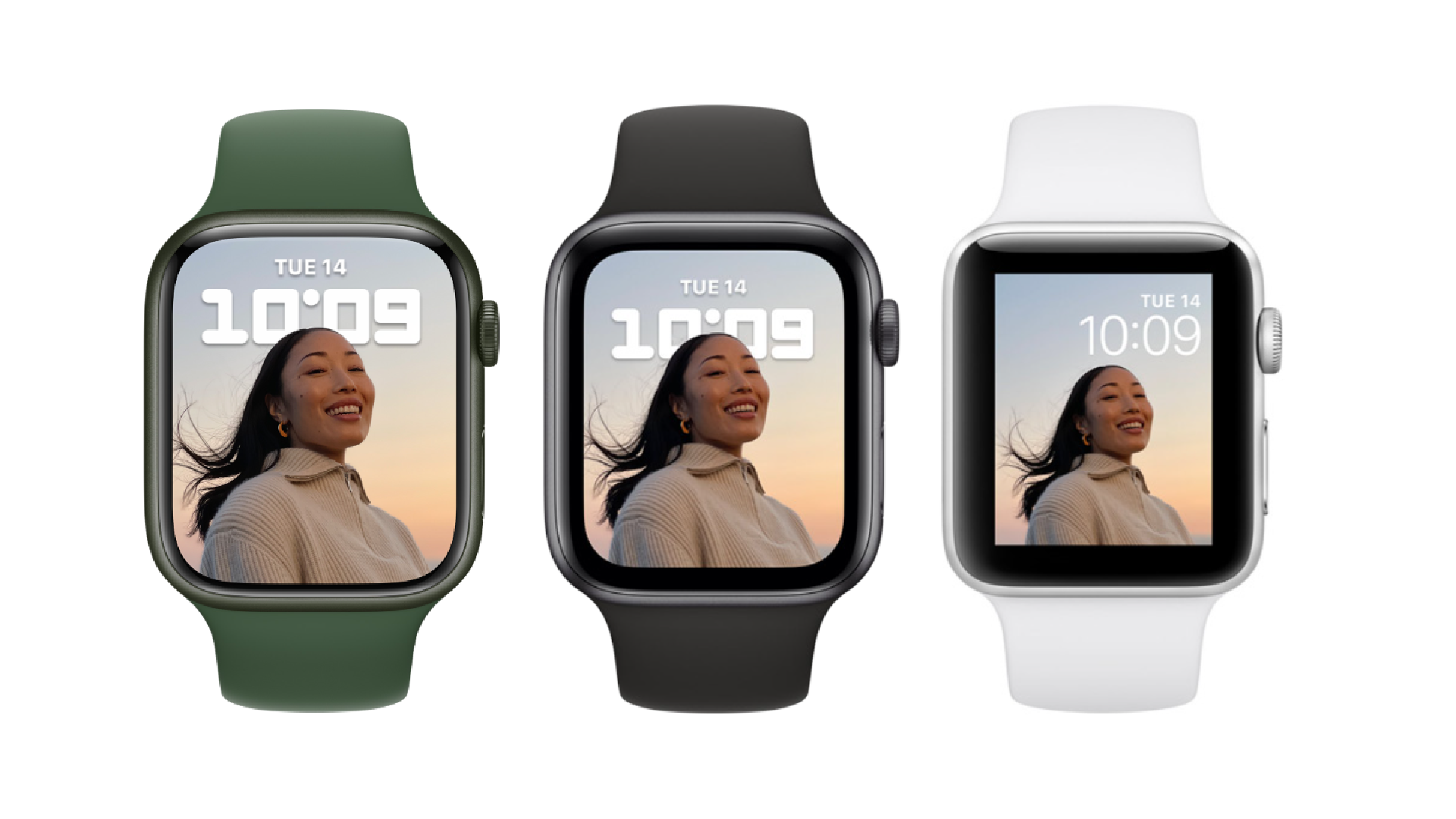 I'm a semi-fan of the Apple Watch – I think it's one of the best all-round smartwatches out there, but for something that's been around for so many years, it badly lacks a pro version.
Word is that we could see that in the next Apple September event, which would be mega – and here's hoping that watchOS 9 comes with some great extra fitness ideas today.
While I'm, of course, super fit and wonderful and stuff, I do admit that there are better fitness experts out there – we got one in to tell us the five things they wanted to see from watchOS 9, so go and see if you agree.
Let's keep the Bad News Bear chat coming, shall we: it looks like that we will get to see new MacBook Air models today, but they will not be coming in loads of fancy new colors to get the creative juices flowing.
The much-reported idea of ​​the new MacBook Air coming in a range of "several colors" is probably exaggerated. Right now it comes in space gray, silver and gold. I wouldn't expect more than those colors (though the new gold will be more champagne like) plus my favorite iMac color. pic.twitter.com/vYl56FOikgJune 3, 2022
See more
While I get that Apple wants to keep the look and feel of its MacBook range premium, it's missing a trick here.
There are loads of colors of the Mac, so a wider color palette wouldn't be a departure for Apple.
The Air is definitely one of the most appealing laptops to creatives that don't need a lot of power but want to express themselves with a laptop that can slip into a bag (or an envelope, for those that remember the first ever MacBook Air unveiling …)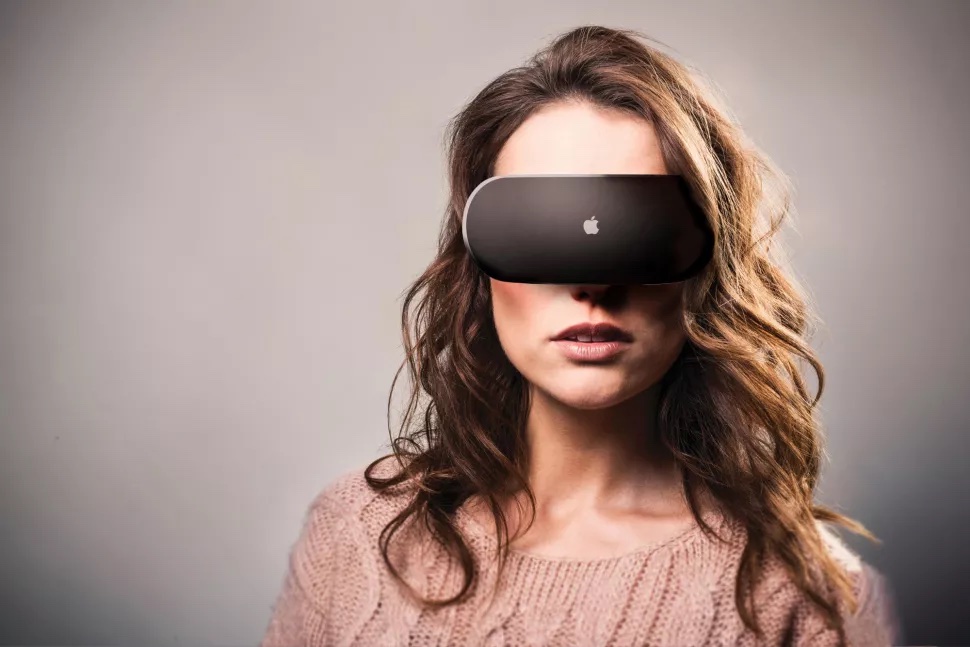 I suppose we should get the Big Bad News out of the way first: the augmented/virtual reality (AR/VR) headset that Apple is (almost certainly) developing isn't going to be appearing today (opens in new tab).
That's because, according to the NY Times, the battery life issues are holding it back from being market ready, and Apple is looking to get it right.
We're still going to see loads about AR at the keynote today, because Apple loves it – but we won't get to see the hardware that will make this constant excitment about an augmented world finally make sense.v
Good morning! Gareth Beavis here, bringing you all the key news and info as we build to the big WWDC keynote.
The day is finally here, and an in-person Apple event is going ahead. We've missed heading out to Cupertino to see all the big changes Tim Cook is unveiling in person – and we're going to be there in full force.
A recent Developer Center open house from Apple suggested refreshments will be available – that's good to know.
For folks coming to today's Developer Center open house at #WWDC22, coffee and donuts from Caffè Macs 😋 pic.twitter.com/n9QJGMG3YNJune 5, 2022
See more